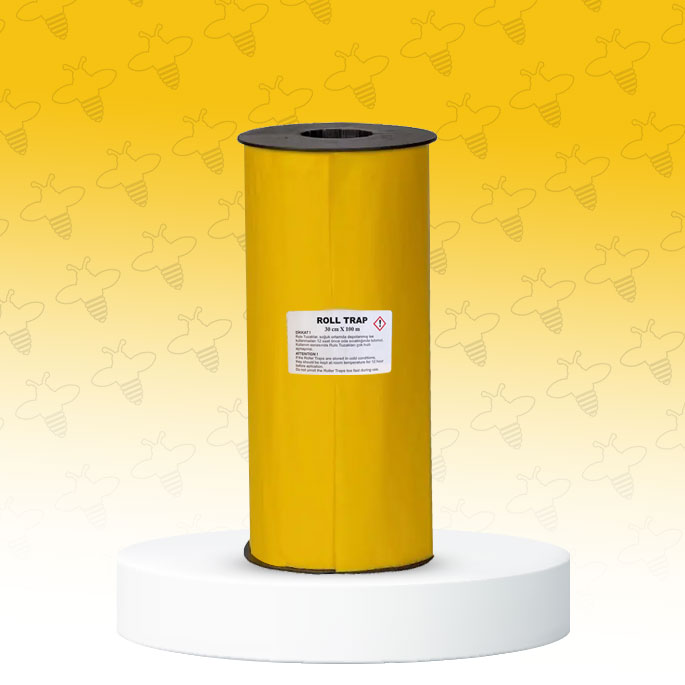 TUTAROLL (roll trap with pheromone) is 30 cm wide and 100 m long. A special Tuta absoluta pheromone has been applied across the roll in the middle of the strip. The special pheromone applied in TUTAROLL starts to work when it is installed in the field. Since the amount of adhesive surface is very high, it provides a more effective effect. The traps are placed in the greenhouse in a homogeneous manner in sufficient lengths by being installed between the poles or to the appropriate pedestals in the greenhouse.
Compared to other pest control methods (water traps, delta traps), the success rate is higher due to the large sticky surface and pheromone area.
Yellow Roll Trap
BKS TUTAROLL YELLOW (TUTAROLL-Y)
It provides the opportunity to fight against other pests in the places where it is intended to combat TUTA Absoluta. It is an advantageous trap for multi-purpose combat. A 100 m long rool trap is recommended for 1 decare or 2 decares.
Storage conditions: Should be stored in a cool and dry place.
Storage period: About 1 year under suitable conditions.
Effect duration: Average 45-60 days.
Pests Controlled: Tuta Absoluta Rooltrap is effective against many pests such as whitefly, aphids, thrips.
Purpose of Use: Used for control purposes
Length: 100 m.
Width: 30 cm.